HIGH IMPACT EMPLOYEE BENEFITS
Posted at 1 year ago in blog by M Lederman
EMPLOYEE BENEFITS IS A HOT TOPIC IN BUSINESS RIGHT NOW. THE BUZZWORD TERM IS "COMPANY CULTURE" AND BUSINESSES WILL GO TO GREAT LENGTHS TO PRESENT ONE THAT IS ATTRACTIVE.
As trends shift over the years, employers are dropping the disciplinarian tone towards employee relations and taking a more proactive approach to taking care of their employees with hopes of stimulating loyalty and increasing productivity. Many have heard that Google is known for its "over the top" benefits including a free gourmet cafeteria and employee laundry service, to name just a few. Most small businesses in Canada aren't able provide their people with these luxurious perks. However, there are many different offerings to drive employee loyalty and some relatively inexpensive options can really make a big difference.
I will propose that businesses begin taking a "value" approach to their benefits offerings, in true Buffett fashion. That is to analyze the data to find which benefits deliver the most impact to employees at the least cost. A good place to start would be to gain a better understanding of what employees are looking for. A survey conducted by marketing agency Fractl sheds some light on this topic.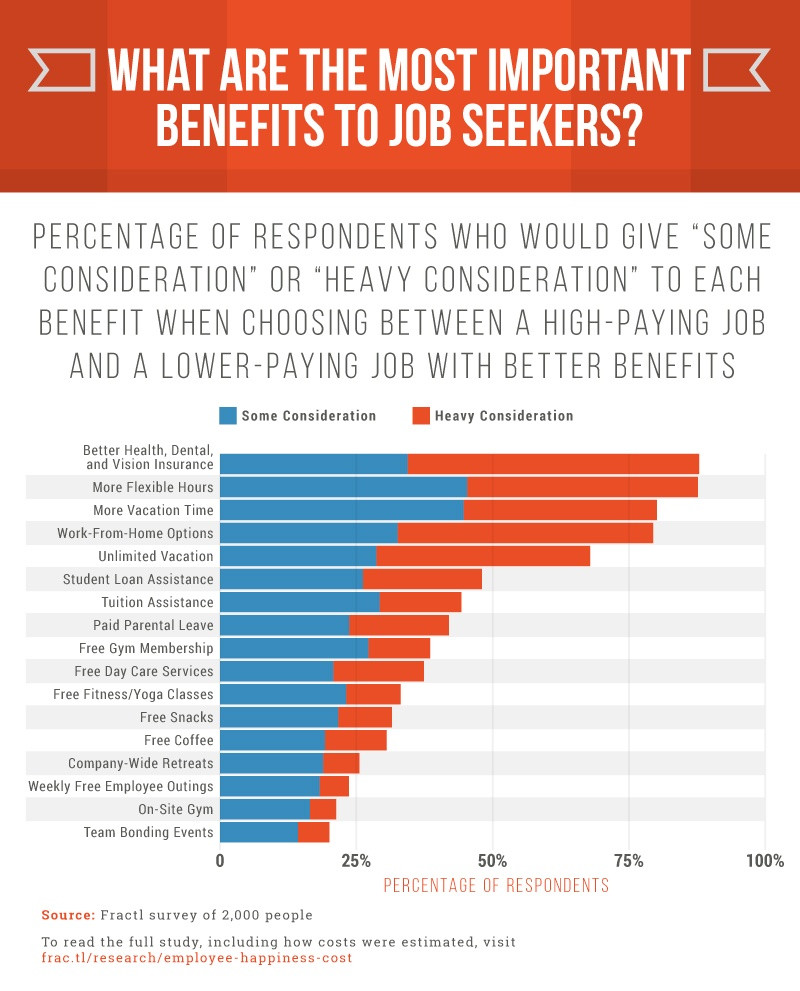 In a "big picture" sense, the results of this survey confirm what makes logical sense. Increased security and autonomy are the two underlying motivators that can replace monetary compensation as an attractive benefit (after all, security and autonomy are the main benefits of having money) . The benefits that respondents rated with heavy consideration are insurance for unforeseen circumstances and their related expenses, and more freedom to determine how employees spend their time. Although each employee is different, the assumptions that these needs drive a large percentage of employees are the bedrock of any compensation plan.
What are employers offering in Canada? We can look to a study conducted by the CPA (Canadian Payroll Association) to identify the top benefits most commonly offered by Canadian employers. The study, called the Employment and Retirement Benefits Survey, questioned nearly 4,000 payroll professionals about the benefits their companies offered and arrived at the following as the "Top Five" benefits.
Health and Dental insurance

Group Life insurance

Training expenses

Vehicle allowances

Gifts and Rewards
Health and dental insurance are benefits that deliver a huge impact. Particularly for employees with families, routine dental checkups or regular prescriptions are a grinding expense that they love having covered to any degree. Due to employer/employee splits and eligible tax deductions, this is a value benefit which pays dividends by attracting and retaining people.
Life insurance contributes to peace of mind and helps employees who may neglect to seek coverage on their own. The effects of these benefits on an employee's financial health are tangible to them. Following the data from the Fractl survey, the final three benefits rounding out the top five would be lower impact benefits in comparison. In general, beyond security and autonomy. employees routinely cite a desire for benefits that heighten their work life balance (as per survey: unlimited vacation, flexible hours etc.). This is a scary proposition to an employer as you need your people to run the machine. Forward thinking companies are offering more work from home options and task based compensation (as opposed to time based). These are not solutions that are viable for every business, but given the trends we observe in hiring and the rapid advancement of technology, a collaborative approach to how employees want to work may be a mandatory consideration in the modern age (at the risk of being left behind).
Stay tuned to the blog as we will continue to comment on current trends in "alternative" compensation. Visit our Request a Quote section for a free quote on health and dental insurance